Lake Placid faces the serious challenge of invasive species, non-native plants and animals that can crowd out native species. Once they establish themselves in a lake, it is extremely difficult to remove them. Variable-leaf Watermilfoil (milfoil) was first detected in Paradox Bay in 2009. In 2019, divers hired by the SOA harvested more than 1,000 pounds of milfoil from the bay. Communities that fail to take persistent action to prevent and control invasive species suffer dire consequences:
Water becomes unsuitable for drinking, swimming and boating
Native plant diversity declines
Fish and invertebrate populations decline
Mosquito populations increase
These consequences have the combined effect of destroying the natural habitat of a lake and adversely impacting the vibrancy of the community. The SOA works with state and local governmental agencies and conservation organizations to prevent and control the invasion through two programs, the Stewardship Program administered by the Adirondack Watershed Institute of Paul Smith's College, and the engagement of qualified divers to search for and remove invasive species.
The Stewardship Program employs more than 100 stewards who monitor boat launches and decontamination stations across the Adirondacks. The purpose is twofold: to educate the public about the spread of invasive species; and to remove invasive species from boats entering the lake. Stewards inspect boats seven days-a-week at three Lake Placid launches; the Department of Environmental Conservation (DEC) launch; Village launch; and Decontamination Station. In 2014, one invasive species was detected and intercepted. That number has grown exponentially each year.
The numbers reported by the Adirondack Watershed Institute underline the importance of the program. In 2017, the Stewards inspected 5,059 boats coming from 135 different waterways. 2.2% of these boats failed inspection, and there were 22 instances of an invasive species found and removed from a boat about to launch into Lake Placid. The invasive species consisted of variable leaf watermilfoil, Eurasian watermilfoil, water chestnut, curly-leaf pondweed and zebra mussels. In 2018, 4,365 boats from 75 waterways were inspected. 18.6% failed the inspection. There were eight instances of invasive species found and removed.
Given the importance of the Steward Program and to reduce the risk of new introduction of invasive species in to Lake Placid, the SOA contracts with Paul Smith's to increase the coverage to seven days-a-week at the DEC Launch, the Village Launch and the Decontamination Station from Memorial Day through Labor Day.
The Decontamination Station or Boat Wash is located next to the DEC launch and is available for everyone bringing any kind of boat into Placid Lake, free of charge.
The Steward Program is aimed at preventing the introduction of invasive species into Lake Placid. To date, it has been successful in keeping out invasive species other than variable leaf milfoil which is currently found in Paradox Bay (one stem was found outside Paradox Bay in 2019). To control and reduce the level of variable leaf watermilfoil in Paradox Bay and to prevent its migration to other parts of Lake Placid, the SOA hired Invasive Solutions Dive Company LLC to harvest the milfoil each summer. Because of a sharp increase in milfoil in Paradox Bay in 2018, the harvesting operations were increased from one week to two weeks. In 2020, harvesting increased to three weeks in an effort to get ahead of the curve.
Invasive Species Prevention Fund for Placid Lake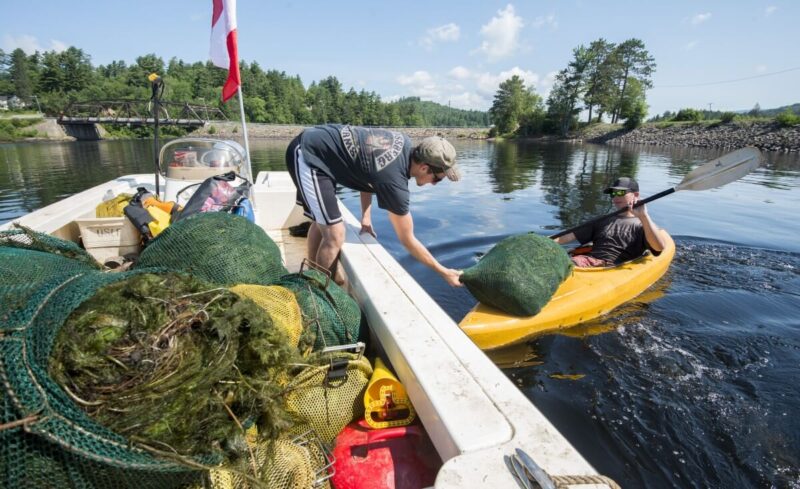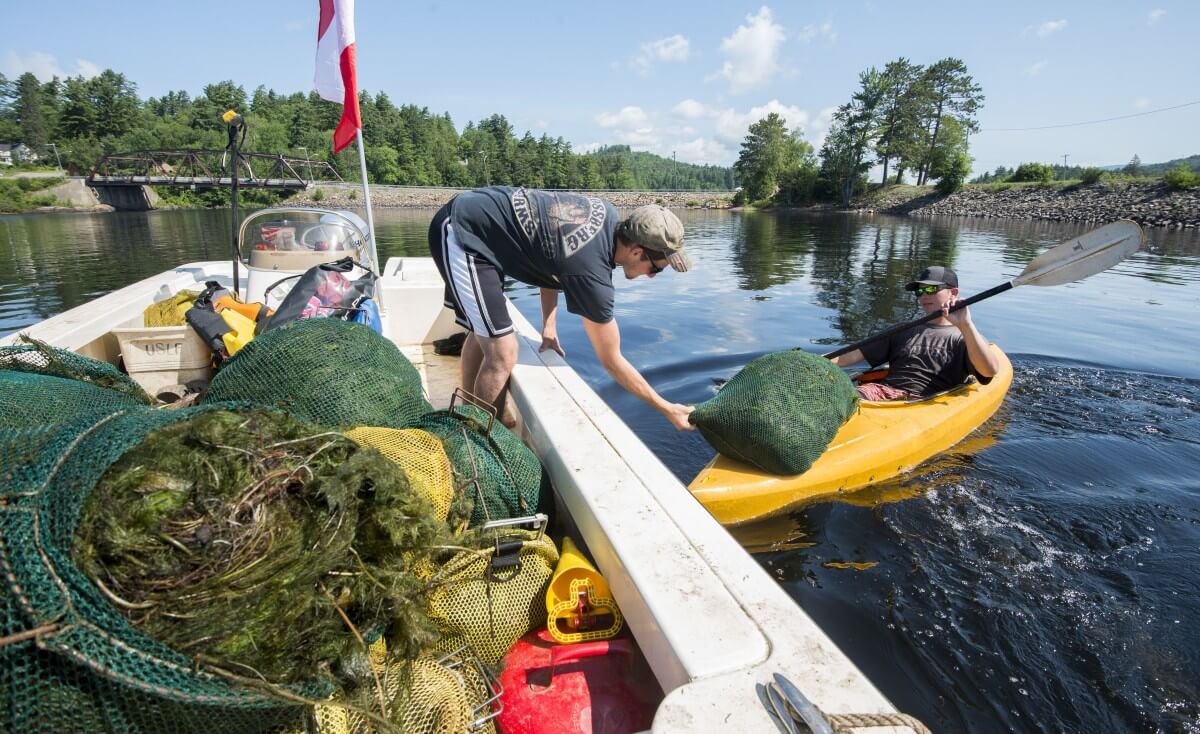 Diver hand harvesting Eurasian watermilfoil
The SOA is thoroughly committed to preserving the health of Lake Placid's Ecology. We have established a fund used exclusively for the prevention and control of invasive species in Placid Lake. This fund supports the Adirondack Watershed Institute stewards who inspect boats and operate the boat washing station, and the divers who harvest invasive species from the lake once they are detected. In 2018 divers harvested more than 1000 pounds of milfoil from Lake Placid, significantly more than in prior years. Increased efforts are required to control the spread and prevent further invasion. Consequences of infestation are severe — from degraded water quality and recreational opportunities to declining property values and tourism revenues.
Your support will help protect the health of Lake Placid and preserve its legacy for generations.